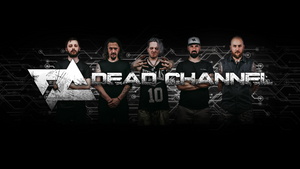 DEAD CHANNEL OFFICIAL
DEAD CHANNEL IN NOT JUST A BAND BUT A CONCEPT:

QUESTIONING DOGMAS SUCH AS RELIGION, MONOGAMY AND PATRIARCHAL LEGACIES, THINKING OUTSIDE OF THE BOX, FIGHT BACK WHAT'S RUINING YOU LIFE, UNPLUGGING FROM YOUR HEAD THE CABLES OF INDOCTRINATION AND MISINFORMATION TO BE TUNED ON THE DEAD CHANNEL, THUS FINDING AGAIN YOUR TRUE AUTHENTIC THOUGHTS AND PERSONALITY, ALL OF WHICH HAVE BEEN WIPED AWAY BY THE INDOCTRINATION SYSTEM.

OUR MUSIC IS HEAVY, DOWN TUNED, GROOVE ELECTRONIC METAL WITH FEW CINEMATIC VIBES, AND SOCIALLY IT TRANSLATES PERFECTLY THIS ANTI-ESTABLISHMENT THEME.

TAKE THE RED PILL AND WELCOME TO THE WORLD OF DEAD CHANNEL!
KEEP IN TOUCH
- notifications, + cool stuff
Stay tuned and you will be the first to know about discounts, promotions and new products